Adult Learning Disability Choir 'Friends Together' Christmas Concert performance a huge success!
21/12/2021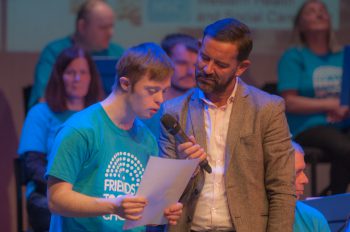 Congratulations to the Adult Learning Disability Choir 'Friends Together' who held their very first Christmas Concert performance last week at the Alley Theatre, Strabane.  The choir which includes service users, carers and staff rehearsed via Zoom over the past couple of months and performed a number of Christmas songs and other favourite songs including 'Wagon Wheel'. The Friends Together performance was compered by Micky Doherty and service users where delighted to receive a video message from their favourite Country Artist Nathan Carter.
Deirdre Kelly, Local Involvement Facilitator for ALD Services at the Western Trust said:
"Thank you Nathan for taking the time to record this special Christmas message and to Micky for compering – to see the delight and smiles on everyone's faces was truly joyful and the real meaning of Christmas!!

"Also a massive thank you to the management and staff at the Alley Theatre for their support in hosting this event it is very much appreciated."

"Wishing everyone a very Happy Christmas and Peaceful New Year."
Pictures courtesy of the Alley Theatre.