Access to Omagh Hospital and Primary Care Complex
23/05/2020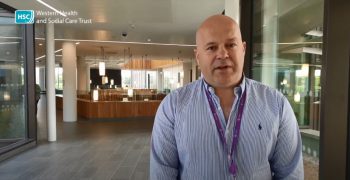 Please note there will be some changes to Omagh Hospital and Primary Care Complex from Tuesday 26 May 2020 as we continue to deal with Covid19.  These measures have been put in place to protect staff, patients and visitors to the Complex.
The most notable changes are listed below for your reference:-
Staff and public will be using separate entrance and exit points.

Staff will use the doors to the right of automatic opening doors at front of building and doors adjacent to Urgent Care entrance at rear of building.
Only visiting members of the public are to come through the electronic opening doors at either end of the building.

Porters will be located at both sets of electronic opening doors to verify that visitors to the site have appointments.
Hand sanitising points are available at both main entrances to the building and in all departments.
The River Café will only be for staff refreshment at the current time.  The Café is only facilitating staff refreshment during this Pandemic. This is in the interests of public health.
Social distancing measures will be put in place across all Wards and Departments.
Thank You All For Your Cooperation and Patience As We Adapt Our Practices