Access Improvement Works to begin at Omagh Hospital and Primary Care Complex
03/02/2020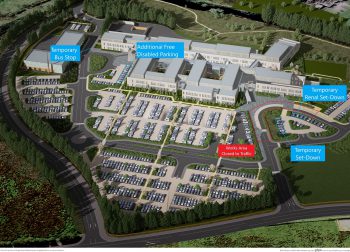 The Western Trust has confirmed that access improvement works will begin on Monday 10 February 2020 outside the main entrance to Omagh Hospital and Primary Care Complex.
Following ongoing Service User feedback and in order to rectify some minor defects which have occurred since the hospital opened some two years ago, road works will shortly commence on improving access for patients and visitors to the drop off area at the hospitals main entrance. The improvement works are expected to take approximately eight weeks to complete and the Trust will put in place the necessary measures to minimise disruption to patients, visitors and staff using the main entrance.
Key aspects of the improvement works include:
Lowered kerbs to facilitate easy access from set-down space.
Additional disabled parking spaces close to Renal Unit and Main entrance.
Ambulance parking space beside Renal Unit to facilitate community buses/larger taxis.
Moving the bus stop and bus shelter to allow buses to get closer to the footpath.
Whilst access to/from the disabled car park will be protected, the road and set-down area in front of the hospital will not be accessible during the works period. The Trust will put in place a temporary set-down area for patient drop-off, access to additional free disabled car parking spaces in the car park beside Urgent Care and Treatment Centre entrance and the temporary relocation of the bus stop, also at the Urgent Care and Treatment Centre entrance. Signage will be in place for patients and visitors to help navigate the temporary changes.
A spokesperson for the Western Trust said: "All necessary steps will be taken to minimise disruption to patient services. These access improvement works have been scheduled to ensure patient services and GP clinics remain fully operational at all times.
"The Trust would wish to thank the public and staff for their understanding and apologise for any inconvenience caused."