89 year old Ernie Long describes his journey of recovery from COVID19
07/05/2020
"Never give up hope" this is the message that 89 year old Ernie Long and his family want to get across, as Ernie returned home recently having recovered from COVID19.
Ernie had become unwell some weeks ago with double pneumonia and COPD and had been admitted to South West Acute Hospital for treatment. Two days into his stay in hospital he was told that is had tested positive for COVID19. Ernie spent a total of 15 days in SWAH before being transferred to Drumclay Transitional Unit in Enniskillen to receive further care and rehabilitation.
Describing his experience, Ernie explains: "My first thoughts were shock and fear when I was told that I had the virus, but I accepted whatever would happen, would happen.
"The staff in SWAH and Drumclay really went beyond the call of duty for me. You could never pay those who work in the NHS enough for what they do."
Ernie's wife Patsy said how "wonderful and unbelievable it was that Ernie had recovered and how there were times I didn't see think I would see the day that he would come home."
Staff at Drumclay Transitional Unit gave Ernie a great send off and staff clapped and cheered Ernie as he returned home last Monday.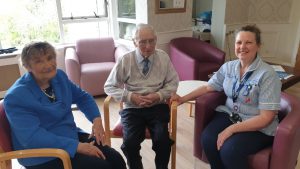 At Drumclay we believe in rehabilitation and regaining independence. Drumclay's sole purpose is to get people back to their family and community. As part of this, we have been taking patients from SWAH, who have unfortunately have COVID-19 but wish to be independent again. We have assisted in their isolation and continued onto an individual rehab programme, to get them back to their loved ones and back in the community."
Dennis Ryan, Charge Nurse at Drumclay Transitional Care Home explains the care the home provides to patients: "
Ciara Farry Deputy Sister at Drumclay said: "We provide intense physio and occupational therapy rehabilitation at Drumclay.
"It can be a big change coming to Drumclay having been in hospital for a period of time. We provide a homely environment to help our patients settle in and to take on the rehabilitation as best they can.
"We are delighted to have assisted with Ernie's recovery and wish him and his family all the very best."