75,000 Vaccine Doses Delivered
19/03/2021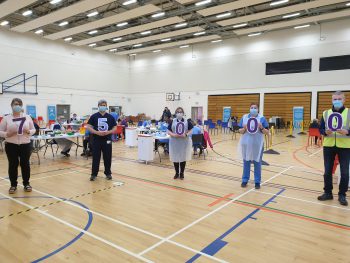 We have hit yet another major milestone in the delivery of its COVID-19 Mass Vaccination programme after officially administering its 75,000* dose this week.
The 75,000th dose was administered to Alan Eccles, from Cookstown, by retired Mental Health Nurse Nula McAleer, who has volunteered to come back to assist with the vaccination programme.
The milestone has come in the same week that Health minister Robin Swann announced the next major phase of the vaccination programme with the broadening of eligibility criteria to include all over 50 year olds, due to the speed and success of the roll out to date.
So far care home residents, health and social care staff, the clinically vulnerable, and extremely vulnerable; carers over 18 and now all those in all age groups over 50 years old are able to avail of their vaccine since the Trust' Vaccination Programme was launched in December last year.
T
he impressive milestone has been delivered through the coordinated efforts of Western Trust staff working closely with Multi-Agency groups and volunteers from across the Trust area.
The COVID-19 Vaccination Programme is the largest programme of its kind ever undertaken by the NHS with the Western Trust operating three vaccination centres, located at Foyle Arena Derry/Londonderry, Omagh Leisure Centre and Lakeside Leisure Centre, Enniskillen, and also a number of mobile vaccination teams, who have reached out to vaccinate specific groups.
The Trust's vaccination programme is running in parallel with the vaccine programme run by GPs across Northern Ireland.
Commenting on the hugely significant milestone, Western Trust Director of Director of Performance & Service Improvement and Vaccine Programme Lead, Teresa Molloy, said:
"The news that we have administered over 75,000 doses across the Western Trust area is hugely significant and we are absolutely delighted with the progress and pace of the Mass Vaccination Programme to date.

"As we reflect on this important milestone, I want to thank all of the staff of the Trust and those in our partner agencies who have made this possible through their sheer hard work and commitment to the Programme."

Vaccination Centre Lead, Martin Quinn, who has also returned from retirement to assist with the programme, said: "As we mark the administration of the 75,000th vaccination dose it's important that we pay real tribute to all the individuals involved.

"We have a whole team of different staff, including pharmacists, nurses, occupational therapists, doctors, cleaners, administration staff and volunteers from across the community working tirelessly to make this happen. Although it is still far from over, so far it has been a phenomenal team effort and I am extremely proud to have played a small part by working alongside the vaccination teams across the Western Trust area."
Those who  meet the eligibility criteria can book their vaccination by visiting the online booking portal https://covid-19.hscni.net/get-vaccinated/ or by calling the regional booking line on 0300 200 7813 from Monday to Friday from 8.30am to 5.30pm.
Anyone invited to attend one of the Mass Vaccination Centres is reminded to wear a face covering (unless exempt for medical reasons), adhere to social distancing rules and bring along their booking reference number, ID and, if possible their Health and Care Number (HCN).