10,000 people in Northern Ireland potentially suffering with debilitating symptoms of undiagnosed Coeliac Disease
16/05/2023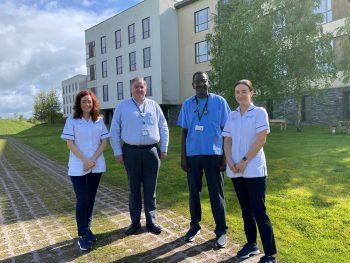 Coeliac UK's Awareness Week campaign 'coeliac disease is different for everyone' aims to provide answers to those who are experiencing unexplained and often debilitating symptoms. For the estimated 10,000 people1 in Northern Ireland who are undiagnosed, a simple blood test is the first step that stands between them and getting on the road to recovery. Coeliac Awareness Week runs from 15-21 May.
Coeliac Disease is a serious autoimmune condition affecting 1 in 100 people, yet only 52%2 of those affected in Northern Ireland are medically diagnosed. When people with the condition eat gluten – a protein found in wheat, barley and rye – their body attacks its own tissues. If left untreated, it can cause gut damage and serious health complications. The only treatment for coeliac disease is a strict gluten free diet for life.
Although coeliac disease can affect everyone differently, it is most commonly known for 'gut related issues'. The Coeliac Awareness Week campaign looks beyond the typical gut symptoms and highlights the lesser-known symptoms that can help to join the dots to speed up the path to diagnosis. The charity's mission for the campaign is to increase awareness and reduce the time it takes to get diagnosed, which for adults can often be 13 years, whilst they continue to experience persistent health issues, potentially causing lasting damage.
There are a number of lesser-known related symptoms that Coeliac UK is highlighting during this year's Coeliac Awareness Week campaign, including:
Extreme fatigue
Persistent mouth ulcers
Unexplained anaemia
Neurological symptoms
Unexplained subfertility (both male and female) and recurrent miscarriage
New research3 highlights the lack of awareness of some of these symptoms, with 93% of UK adults unaware that subfertility or recurrent miscarriage are symptoms of coeliac disease. 88% are unaware of mouth ulcers, while 70% aren't aware of iron, vitamin deficiency or anaemia as a symptom.
For most people, once diagnosed with coeliac disease they can start on the road to recovery, and often see very swift improvements in their health. The first step recommended by Coeliac UK for those seeking answers around their unexplained symptoms, is to take its quick and easy self-assessment. This three minute online questionnaire, based on the NICE guidelines4, will confirm whether the individual is recommended to speak with their healthcare professional about getting tested and gives people a letter to take to their GP. The self-assessment is available at: www.isitcoeliacdisease.org.uk
However, Coeliac UK is keen to stress that people should not cut gluten out of their diet without first being tested for coeliac disease. This is because gluten must be in the diet, or the test won't work and could give a false negative result.
Hilary Croft, Coeliac UK CEO, commented:
"When someone who has been experiencing coeliac disease symptoms finally gets an answer to the cause, the positive changes can be momentous. We've seen some people struggle with symptoms of coeliac disease for decades, unaware that there is a treatment, a medically prescribed gluten free diet. However, awareness still needs to be increased, with more than a quarter3 (26%) of the UK population reporting to have never heard of coeliac disease. This increases to over 75% for the lesser-known symptoms, despite them being key indicators that something is not quite right and that the person may have undiagnosed coeliac disease.

"There are many more symptoms of coeliac disease than the usual gut related issues, and the condition is different for everyone. Through our Awareness Week campaign, we aim to reach the estimated half a million people living with undiagnosed coeliac disease and help them to get on the road to recovery."
Case Study
For those who have been diagnosed after years of suffering with symptoms, the change in their quality of life has been dramatic.
Laura – Neurological symptoms
Originally diagnosed with long covid due to 'brain fog', Laura, 39, from Strabane, Co Tyrone, struggled with neurological symptoms that had a detrimental effect on her family's routine. She was forgetting simple admin tasks that are usually second nature to her. She said:
"I had terrible brain fog – it was the worst! My family were used to me being on top of everything and then my kids would say: 'Mummy, you sent me to school today wearing my PE kit and I was meant to be in school uniform.' I didn't know the days of the week – I was really struggling."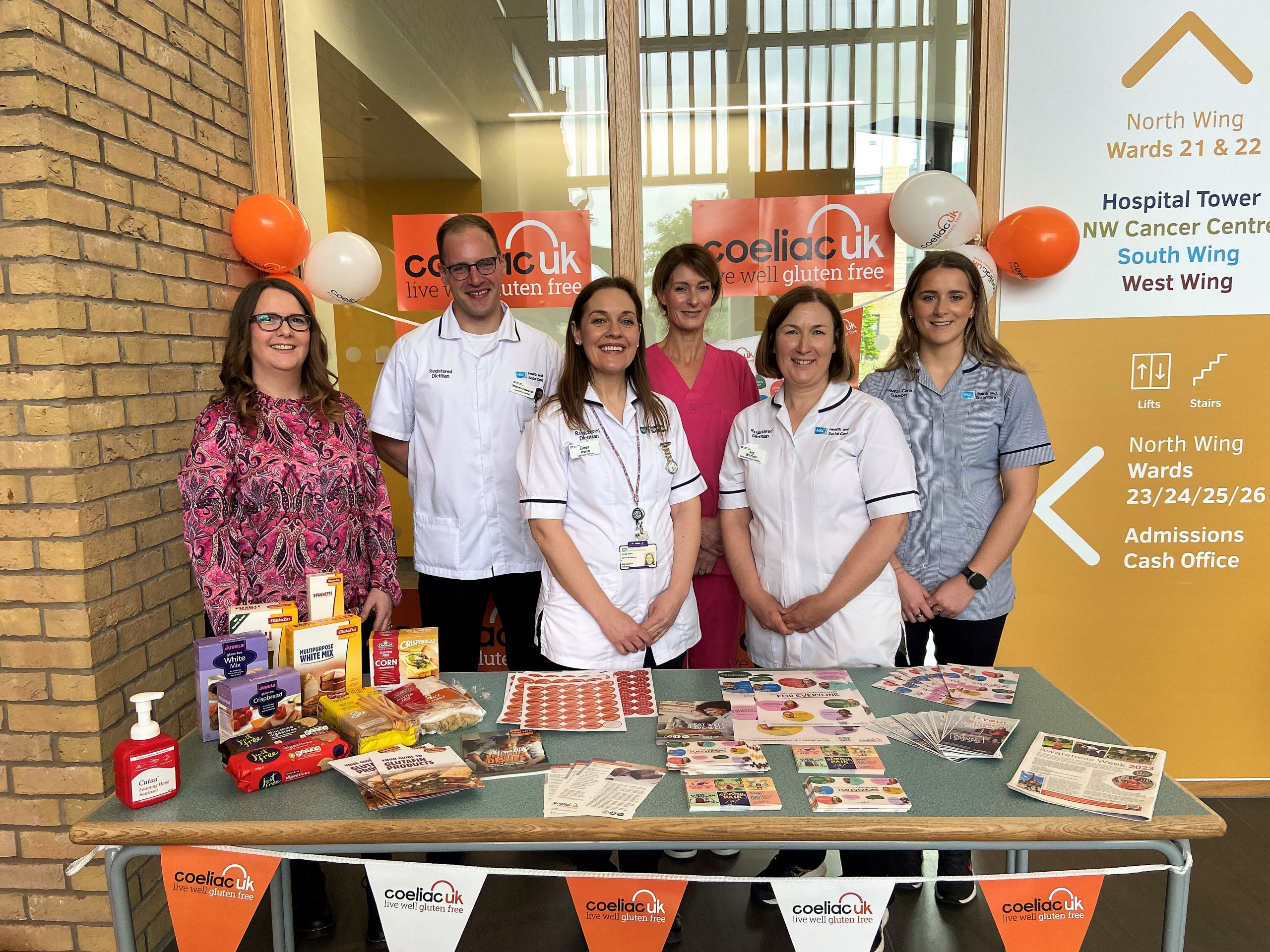 After suffering with muscle pain, bowel issues, and persistent pins and needles, Laura's GP performed 'every test under the sun' and was told she had tested positive for coeliac disease. Laura continued:
'The doctor asked me if it was a surprise and I realised it wasn't because it ran in my family, but I was never asked about it and it didn't occur to me that it could be that condition.'
Laura now wants to raise awareness of how debilitating the symptoms can be. She said:
"I don't think people understand the impact of coeliac disease. People talk about their invisible illnesses, and this was the same; I didn't look sick so I couldn't get others to understand how unwell I felt. It was very strange, and I felt lonely."
Laura McGrath was invited over to London to help launch Coeliac UK Awareness Week for a charity Coeliac UK to tell her story which is quite unique in that she did not have physical symptoms common with Coeliac disease but neurological symptoms which can make it harder to get a diagnosis.
Laura was delighted to meet up with Joy Whelan, Advance Practice Gastroenterology Dietitian at the Information Stand at Altnagelvin Hospital today to say a huge thank you to Joy for her help and support.  Laura explained:
"I was very unwell and finding it very difficult to cope with family life – working and caring for my family (three young children). I first got symptoms in July 2021 after my third child was born and after many months going to my GP I finally got diagnosed with coeliac disease in July 2022.  This was when I was first introduced to Joy who has helped and supported me in managing my gluten free diet, medications and overall health".

"My appointments are done virtually and although I haven't physically met Joy (until today) I am extremely grateful for everything she has done over the past year. Joy has helped me 'get my life back' and I couldn't praise her highly enough!  I unfortunately had to put plans for a family holiday to Disneyland Paris on hold over the past couple of years due to my ill health but thankfully with the advice, support and encouragement from Joy I was able to book our dream holiday and have just returned from a wonderful time in Disneyland Paris this week!"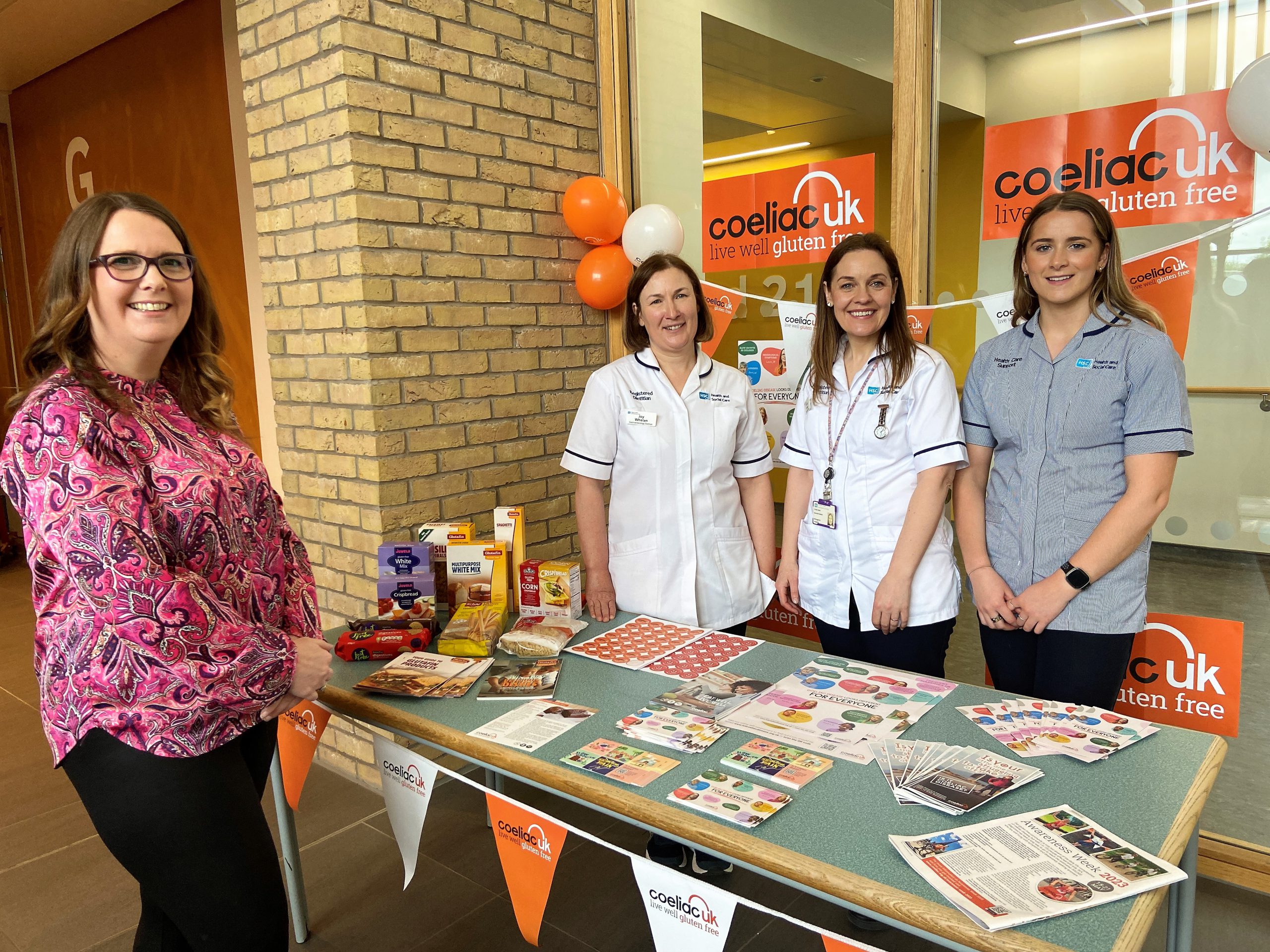 Joy Whelan said:
"It is wonderful to meet with Laura and I appreciate her kind words and thank her for helping to raise awareness of the more uncommon neurological symptoms of coeliac disease. Coeliac disease is an autoimmune condition where the body's immune system attacks it's own tissues when gluten is eaten.  The treatment involves a strict lifelong gluten free diet. Myself and my colleagues aim to treat patients with a diagnosis of coeliac disease holistically ensuring that individual patient centred care is at the heart of the treatment and support for our patients.  Figures provided by Coeliac UK report coeliac disease affects approximately  1 in every 100 people in the UK… but only an estimated 36% are diagnosed. However, the number of people diagnosed in Northern Ir eland each year is increasing and this is a similar trend in the Western Trust and across the UK.

We provide mainly virtual and telephone appointments for patients across the Western Trust area but can provide face to face clinics as well if patients prefer this. We have great support from our Consultant Gastroenterologists who provide advice and review of patients if required. Our service allows patients to get advice and support on their diet in addition to regular blood tests and bone density scans to ensure they are absorbing nutrients properly and an appropriate treatment plan is tailored to meet their needs."
For more information about Coeliac Awareness Week, visit: https://www.coeliac.org.uk/awareness-week-2023/