Social Work
View the video below for an insight to a career in Social Work created by Western Trust staff.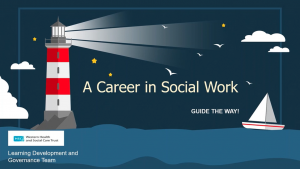 Thinking of a Future in Social Work – Careers Event
Download the information leaflet for the event.
The information leaflet includes the timings of different topics throughout the video as well as useful links.
Storyboards
Maria Emilsson – Principal Social Worker in Learning Development and Governance Team 
Claire Ball – Principal Social Worker in a Primary Care and Older People Team
Willie Deery – Senior Social Worker in the Court Team
Education
Queen's University Belfast – Bachelor of Social Work 
Ulster University – Social Work BSc (Hons)
South West College – Social Work
Further Resources 
Northern Ireland Social Care Council (NISCC) and Northern Ireland Degree in Social Work Partnership (NISWP) – A Career in Social Work