Get Involved

What is Involvement?
Involvement is a process in which staff, service users and/or carers work together to influence services. The process respects and blends both 'lived' experience and 'professional' experience; it places people at the heart of services, involving them from the outset in the commissioning, design, delivery and assessment of services.
Involvement may happen at a number of levels:
Level 1 – Involved in agreeing support/care plan with Social Worker and your relative
Level 2 – Involved in evaluating services
Level 3 – Involved in developing services
Level 4 – Setting priorities and allocating resources for the future at service directorate level
Level 5 – Commissioning and policy development at organisational or regional level
Values of Involvement
Dignity and respect
Collaboration and Partnership
Transparency and Openness
Inclusivity, Equity and Diversity
Principles of Involvement
Leadership & accountability
Supporting involvement
Valuing expertise
Creating opportunity
Clarity of purpose
Doing it the right way
Information & communication
Accessible & responsive
Developing understanding and accountability
Building capacity
 Improving safety & quality
Outcomes focused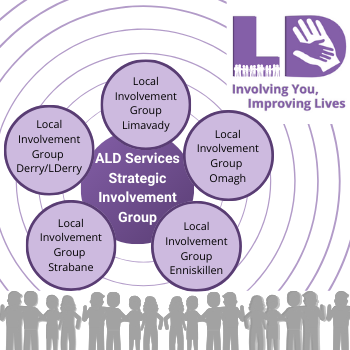 Involvement Model to aid the delivery of Adult Learning Disability Services in the Western Trust
The Western Trust Adult Learning Disability Service continues to test and support a model of Involvement in which service users, carers and Trust staff work together to shape and influence service delivery in the Western Trust Region.
The 'Hub and Spoke' model consists of 5 Local Involvement Groups (LIG's), who work together to identify priorities for their local area. The 5 Local Involvement Groups are in Limavady, Derry, Strabane, Omagh and Fermanagh. These groups meet approximately every 8 weeks.
These groups, in turn, nominate members to represent their local group on the Strategic Involvement Group which is attended by senior members of the WHSCT and meets each quarter.
---
Download our Personal and Public Involvement Handbook
Visit our 'A Welcome to Involvement' Page for more information and resources for our Local Involvement Groups and Strategic Involvement Group.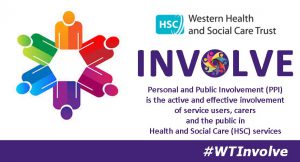 ---
Personal and Public Involvement (PPI) Contact Details

New PPI Facilitator for Adult Learning Disability Services Roles

There have been two new PPI Facilitators for Adult Learning Disability Services within the Western Trust – view the videos below for a short introduction to their roles.


Jonathan McGuigan – Southern Sector – jonathan.mcguigan@westerntrust.hscni.net

Telephone: 028 8283 5124

Deirdre Kelly – Northern Sector – deirdre.kelly@westerntrust.hscni.net

Telephone: 028 7186 4323

Opportunities to Get Involved

What would you like to see in the future role of learning disability nurses?

Families Involved NI is supporting the professional learning disability nursing leads, within the Department of Health, to gain more insights from families of people with learning disabilities (children and adults) on their experiences of Learning Disability Nursing across Northern Ireland.

This survey is your opportunity to share your past experiences but more importantly give your thoughts and ideas on how this important role can be shaped for the future.

Making sure that our people with learning disabilities can access and receive health care like every other person is important throughout their lives.

Thank you for taking the time to complete the survey in the link below. Please share with your contacts or other families that would be interested.

https://www.smartsurvey.co.uk/s/AJHH56/

If you wish to have a hard copy of the survey for completion, then please email RNLD.Review@health-ni.gov.uk or telephone Mon or Wed (9am-12.30pm) 02890 522026

---

Learn Makaton – Level 1 via Zoom

When: 8th and 15th November (you must attend both dates)

Time: 6:30PM – 10:0PM

Cost: £72.50 (includes manuals and certificate)

Level 1 training provides a practical introduction to the Makaton Language Programme
You will learn the signs and symbols from Stage 1 and 2, and some of the Additional Stage of the Core Vocabulary.

To book… email: elizabethharvey54@yahoo.co.uk

Patient Client Council - Opportunities to Get Involved

Patient and Client Council Opportunities to Get Involved

Regional Disability Forum for Health and Social Care – Forum for people with a physical/sensory disability and/or communication difficulty. Applications close Friday 10th November. Visit – makechangetogether.co.uk

Obesity Prevention – The Department of Health are pulling together a project board for developing our next strategy for tackling obesity. Seeking 2 people living with obesity or who have experience of using obesity prevention who would like to join the project board to represent people with lived experience. Visit – makechangetogether.co.uk

Have you been to an Emergency Department recently?

As part of the Review of Urgent and Emergency Care services the PCC invite you to share your thought on any recent experiences at one of the following sessions:

Monday 1st November: 6:30pm – 8:00pm

Wednesday 3rd November 10:00am – 12:30pm

Wednesday 3rd November 2:00pm – 4:00pm

To register please contact Jane: jane.reilly@pcc-ni.net or 028 9536 1705