ALD – Get Involved

The Western Trust Adult Learning Disability Service is continuing with a process of developing an involvement mechanism for service users, carers, Trust staff and providers to shape and influence service delivery in the Western Trust Region.
PPI Model to aid the delivery of Adult Learning Disability Services in the Western Trust
Following the appointment of an interim PPI Advisory Group and a series of meetings and workshop events, a model has now been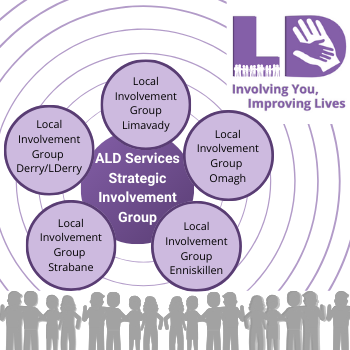 proposed and agreed for moving forward with this process. There is a 'Hub and Spoke' infrastructure with 5 local implementation groups working with a Strategic Involvement Group. The 5 Local Involvement Groups are in Limavady, Derry, Strabane, Omagh and Fermanagh as illustrated in the image.
The Strategic Involvement Group will be made up of representatives of the local hubs and this infrastructure also reflects 5 levels of involvement as per the following:
Level 1 Involved in agreeing support/care plan with Social Worker and your relative
Level 2 Involved in evaluating services
Level 3 Involvement in development of services
Level 4 Setting priorities and allocate resources for the future at service directorate level
Level 5 Commissioning and policy development at organisational or regional level
The interim PPI Advisory Group is working with Trust staff and the Public Health Agency (PHA) to help shape the model and is currently building firm foundations to ensure involvement is wide reaching and meaningful.
Getting Involved – 'It's never too late to get involved'
If you have not already done so and would like to get involved in the Personal and Public Involvement Process (PPI) for Learning Disability Services, then please complete the relevant Form below – for either a 'Carer' or 'Service user'. Click on the link to download or read.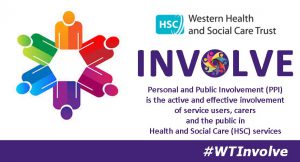 ---