Sexual Health Services
COVID19 Arrangements
Due to COVID19 the clinic can no longer provide walk in services for the foreseeable future.
Please contact the clinic first on 028 7161 1269 between the hours of 8.30am-4.30pm for an appointment slot.
For any emergencies outside of these hours please contact the Emergency Department/ Out of Hours.
There will be no service available in Omagh for the foreseeable future. Please contact Altnagelvin clinic for advice or an appointment.
Our Service
Genito-Urinary Medicine (GUM) Clinic
Welcome to the Western Trust Sexual health services. We offer a confidential, non-judgmental service that aims to help with all aspects of your sexual health.
If you are concerned you may have a Sexually Transmitted Infection (STI), we provide 'check-ups', advice, guidance and treatment.  We also offer emergency contraception and specialist HIV clinics.
Contact: GUM clinic in Altnagelvin Hospital or the Omagh Hospital and Primary Care Complex: 02871611269.
Altnagelvin Area Hospital (Anderson House Clinics)
| Clinic Opening Hours | 8:30am - 1:00pm | 2:00pm-5:00pm | 5:00pm-7:30pm |
| --- | --- | --- | --- |
| Monday | Appointment Only | Appointment Only | Closed |
| Tuesday | Appointment Only | Appointment Only | Closed |
| Wednesday | Appointment Only | Appointment Only | Closed |
| Thursday | Appointment Only | Appointment Only | Closed |
| Friday | Appointment Only | Appointment Only | Closed |
Omagh Hospital and Primary Care Complex Clinic
Closed due to COVID19.
Please note all times are subject to change
---
Sexual Health Survey
Please take the time to answer some quick questions about our GUM clinics to help us improve our services. Click on the button below.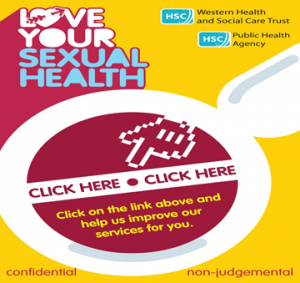 Express Sexual Health Clinic
Click on the flyer to learn more about our Express Sexual health Clinic.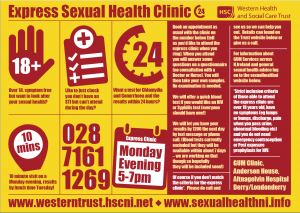 ---
Other Sexual Health and Support Services (Northern Ireland)
Click here for other sexual health services available throughout Northern Ireland
Please click here for useful contact information.
---
STI Information
A STI can be passed from one person to another through sexual contact, including vaginal, anal and oral sex.
Many people with sexually transmitted infections (STIs) don't get symptoms, so it's worth getting tested even if you feel fine.
Many STIs can be treated with antibiotics. Some, such as HIV, have no cure, but can be treated to prevent them getting worse. The key is to get tested.
For more information on sexually transmitted infections visit NHS Choices.
---
Contraceptive Advice 
If you require any information regarding methods of contraception please contact the Family Planning Association.
---
Contraception and Sexual Health (CASH)
Contraception and sexual health clinics are a free and confidential service offering sexual health information and advice, all methods of contraception, emergency contraception, education, counselling, STI screening, smears and pregnancy testing.
Appointments can be made at the following clinic locations by contacting the relevant telephone numbers:
Clinic
Contact
Times
Brae Clinic (Waterside)
028 7132 1758
Monday: 9:30am - 12:00pm
Tuesday: 9:30am - 12:00pm and 2:00pm - 4:00pm
Wednesday: 9:30am - 12:00pm and 2:00pm - 4:00pm
Thursday: 9:30am - 12:00pm and 2:00pm - 4:00pm
Friday: 9:30am - 12:00pm
Limavady Health Centre
028 7776 1121
Wednesday: 2:00pm - 4:00pm
Omagh Hospital and Primary Care Complex
028 8283 5536
Monday - 9:30am - 12:00pm
Thursday - 9:30am - 12:00pm and 2:00pm - 4:30pm
South West Acute Hospital
028 6638 2693
Wednesday: 9:30am - 12:00pm and 1:30pm - 3:30pm
---
We also offer a Young Person's Sexual Health Drop-in Clinic for young people under 25 years of age at the following times and locations:
Clinic
Time
Brae Clinic
Monday: 2:00pm - 4:30pm
Friday: 2:00pm - 4:30pm
Limavady Health Centre
Wednesday: 3:30pm - 4:30pm
Omagh Hospital and Primary Care Complex
Monday: 2:30pm - 4:30pm
South West College
Tuesday: 12:30pm - 3:30pm (Walk In and Wait Clinic - Limited Spaces)
---
Further Resources
---
Locations where this service is delivered
---
Contacts
Genito-Urinary Medicine (GUM) Clinic - Omagh Clinic
Omagh Hospital & Primary Care Complex, Donaghanie Road, Omagh, BT79 0NR
02871611269

Genito-Urinary Medicine (GUM) Clinic - Anderson House Clinic
Anderson House, Altnagelvin Area Hospital, Glenshane Road, Derry/Londonderry, BT47 6SB
02871611269