Recovery Services
---
The Trust provides specialist mental health teams based on the recovery ethos and focused on the needs of those with severe and enduring mental health problems.
Our Mission Statement
Mental Health Recovery Services in the Western Trust exist to support people with serious and enduring mental health problems in their personal journey towards recovery. Services are underpinned by the principles of a person centred, strengths based approach, recognising the unique skills, creativity and expertise both of the service user and the helper. The guiding principles of autonomy, fairness, protection, dignity and respect are integral to the therapeutic alliance.
Aim
To meet the mental health care needs of service users with severe and enduring illness by making the best of available resources to provide accessible, effective and timely interventions and to support service users to develop hope, resilience, independence, and ultimately to lead meaningful lives.
---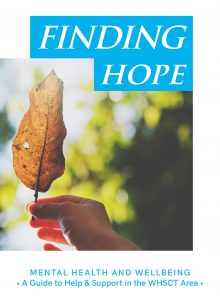 Click on the image above to view Finding Hope, the Western Trust Recovery College's guide to help and support for mental health and wellbeing in the Trust area.
---
Spring 2020 Recovery College Prospectus

Although we launched our Spring 2020 Prospectus earlier this year, our term was cancelled due to the restrictions around COVID19.  We were due to offer courses and workshops on 25 different topics relating to mental health and wellbeing in various locations throughout the Western Trust area.

Click on the buttons below to check out the Spring 2020 Prospectus which will give you an idea of what we will be running in the future.

For more information please contact the Recovery College Telephone: 028 8283 3292.

Mental Health Helplines

Lifeline – a crisis-response helpline service operating 24 hours a day, seven days a week. If you are in distress or despair, you can call Lifeline on 0808 808 8000 and talk to an experienced counsellor in confidence.
Samaritans – A safe space for you to talk: 116 123
Childline – If you are a child or young person, you can talk to Childline by phoning: 0800 1111 for free, 24hours a day or online at www.childline.org.uk
24 Hour Domestic and Sexual Violence Helpline – Free phone support, advice and signposting for men and women:  0808 802 1414
NSPCC Helpline – helping adults protect children 0808 800 5000
Inspire Workplace Helpline – Formerly Carecall 0808 800 0002

All of the helplines above are free to call. 

For all other local helplines for a variety of services in Northern Ireland, please visit: Helplines Network NI
---
Contacts