Eat Well
What we eat every day has a big impact on our health. A balanced diet is eating more of what our body needs and less of what it doesn't. We can still eat a wide range of delicious foods, while keeping an eye on our intake of sugar, fat and salt. No single food provides all the nutrients we need, so it's important to eat a wide variety of foods.
Use the Eatwell Guide to help you get the balance right. It demonstrates how much of each different food group you should be aiming to eat each day.
The Eatwell Guide is suitable for use with children over the age of five, adolescents and most adults and helps us understand and enjoy healthy eating. It is not appropriate for babies, children under 5 years, frail older people and people who are seriously ill.
Click the link below to explore the Eatwell Guide further: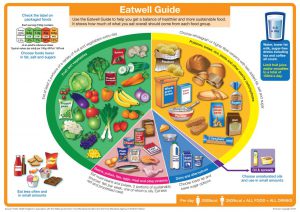 There are specific nutritional requirements for various groups including children under 5, pregnant and breastfeeding women and older adults.
---