Eat Well
What we eat every day has a big impact on our health. A balanced diet is eating more of what our body needs and less of what it doesn't. We can still eat a wide range of delicious foods, while keeping an eye on our intake of sugar, fat and salt. No single food provides all the nutrients we need, so it's important to eat a wide variety of foods.
Use the Eatwell Guide to help you get the balance right. It demonstrates how much of each different food group you should be aiming to eat each day.
The Eatwell Guide is suitable for use with children over the age of five, adolescents and most adults and helps us understand and enjoy healthy eating. It is not appropriate for babies, children under 5 years, frail older people and people who are seriously ill.
Click the link below to explore the Eatwell Guide further: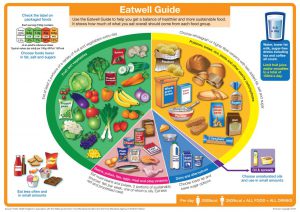 There are specific nutritional requirements for various groups including children under 5, pregnant and breastfeeding women and older adults.
Feeding babies and children under 5 years of age
Young children have a high requirement for energy and nutrition relative to size. Insufficient energy will lead to weight loss and delayed development, while over feeding leads to obesity. All nutrients are important at this age but protein, iron, calcium, vitamin D and fibre are particularly important. Milk (breast or formula) will meet requirements for the first 6 months-breastfeeding is recommended.
Solids should be introduced from 6 months to meet increasing nutritional requirements
By 12 months a child can move on to full cream cow's milk. They can eat thesame foods (more or less) as adults and should be eating three healthy meals a day plus snacks.
Care should be taken over salt and sugar content of the diet.
Fats should not be overly restricted in the under 5s.
For more information
Pregnant women
Eating for a healthy pregnancy is very important because everything you eat and drink can influence your baby's health. You don't need to go on a special diet, but you do need to get a good balance of food in order to make sure your baby gets all the nutrients they need. There is no need to eat for two, eating a varied diet made up from the four main food groups shown in the eatwell guide is enough. Try to eat regularly – three meals a day – to ensure you and your baby get all the nutrients needed. For more information click here.
Breastfeeding Mothers
You don't need to eat anything special while you're breastfeeding. But it's a good idea for you to eat a healthy diet. Healthy eating whilst breastfeeding is no different from at any other time of your life. To make sure you are getting a good balance of nutrients for you and your baby follow the Eatwell Guide. For further information on breastfeeding click here.
Healthy Eating for Older Adults
As we get older a good diet and keeping active can help us age well and prevent potential health problems.
Four leaflets have been developed by the Health Improvement Equality and Involvement Department's Community Food and Nutrition Team to support older adults to eat well.
Vitamin D
Vitamin D is an essential vitamin for everyone, to help develop and maintain healthy bones. Although many people get enough vitamin D, some, need more and should take a vitamin D supplement. Most of our vitamin D comes from sunlight, so even a healthy well balanced diet that provides all the other vitamins and nutrients needed it is unlikely to provide enough vitamin D.
Vitamin D supplements are recommended for the following groups:
Women who are pregnant or breastfeeding
Infants and young children
People aged 65 years and over
People who are confined indoors for long periods and those who cover their skin for cultural reasons
People who have darker skin (e.g. those of African, African-Caribbean and South Asian origin).
For more information about vitamin D supplements and the amount to take click here.
Maintaining a healthy weight
Obesity is one of the most important public health challenges facing Northern Ireland today. 61% of adults are either overweight (37%) or obese (24%).
This has a negative impact on both our physical and mental health.
To find out whether your weight is increasing your risk of developing serious illnesses, including information on measuring your waist and Body Mass Index (BMI) and tips on healthy eating for weight loss and physical activity please click here.
For more information on maintaining a healthy weight, including healthy recipe ideas: