Healthy Living
The Health Improvement, Equality and Involvement Department aims to improve the health and wellbeing of all people in the Western Trust area. We provide a range of services, including training, project development and a wide variety of health information and resources.
The Health Improvement Training Brochure outlines the training opportunities available. To book your place on a course please complete our booking form click here.
To find out more about the work of the Health Improvement Department, email us on: health.improvement@westerntrust.hscni.net
Phone us on: (028) 7186 5127
Or write to us at:
Health Improvement Department
Maple Villa B
Gransha Park
Londonderry
BT47 6WJ
---
Launch of 'Looking After Yourself at Home Booklet'
The Health Improvement Department, have published a new booklet on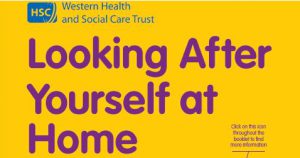 looking after yourself at home. It is aimed at those who do not have access to the internet and websites.
The Covid-19 pandemic has been a challenging time especially for those of us who have been spending more time at home, whether shielding, self-isolating or working from home. It has become even more important to look after our overall health and wellbeing.
Looking after our health is important for two reasons:
It can help us to stay healthy
If we do have a health concern, it can help us to manage it better.
This new booklet provides ideas and information on practical and helpful ways we can support our health and wellbeing at home. Further help and support information can be found at the end of each section. The health topics covered in this booklet are:
Keeping Active
Healthy Eating
Cutting Down on Alcohol
Support in Stopping Smoking
Nurturing our Personal Resilience
Money Advice
The booklet is available to order as a printed copy with contact details for further support and can also be accessed as an online version which includes links to websites.
To place an order for copies of this booklet, which will be posted out or delivered, please contact the Health Improvement Department on 028 7186 5127 or health.improvement@westerntrust.hscni.net